Master of Commerce (M.COM)
COURSE DETAIL
Affiliation & Approval– Lucknow University
Year of Establishment- 2020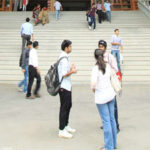 Course Details- M.Com or Masters of Commerce is a two-year post-graduate level course ideal for candidates who wish to make a career in banking financial services and insurance (BFSI) as well as accounting and commerce sectors. The two-year course delves deeper into the functioning of the economy, capital, revenue, trade, taxes, etc. taught in B.Com. M.Com is a very versatile course and gives the students to choose their careers in various fields. 
Merits-  1. Suitability for commerce, banking and industries.
                2.Frequent interaction with industry & research team
                3.Well educated and experienced faculty.
                4. Opportunity to develop in corporate, legal,banking environment.
Duration– 2 year course
Intake- 30 seats
Tuition Fee: 16,080/- Per Semester
Hostel Fee:90,000/- Per Year
Attendance – A student must put in 75% of the total attendance for each subject in the absence of which he will not be eligible to write the exams for the subject.
Evaluation Criteria– There are three sessional exams conducted every semester to test both the theoretical and practical knowledge of student in the respective subject along with the Semester end examination.
Career –
A Cost Accountant is a financial expert who is involved in evaluating the cost associated with a service or its manufacturing. Primary roles of a cost accountant include evaluating overall profit and loss statement, analyzing a position and suggesting a budget to make the same profitable. In addition, a Cost Accountant takes into account the costs incurred in manufacturing, shipping and administration.
With an M.Com degree, one can get a job in a taxation consultancy firm; however, individuals with an LLB degree are preferred by taxation firms to manage legal tax matters.
·         Investment Banker
With an interest in the investment sector, an M.Com degree holder can land a high paying job after completing the degree. Candidates can also proceed for specialized investment banking courses to land a job as an investment banker.
·         Chartered Accountant
Aspirants need a certification of Chartered Accountancy to practice as a professional CA in India. One needs to qualify for three levels of the ICAI CA exam conducted by the Institute of Chartered Accountants of India (ICAI). Some prefer to pursue Chartered Accountancy with a bachelor's degree in Commerce, while some prefer the same with an M.Com degree.
A Corporate Secretary, also known as Company Secretary (CS), is a position held by an individual who is certified to handle all key aspects of the firm as per the rules and regulations laid by the government. Filing company's tax returns, keeping financial records, advising Board of Directors on financial aspects of the company.
Stock Brokers are shareholders registered representatives are individuals who provide financial advisory services. In addition, stockbrokers execute stock trades on behalf of the shareholders such as the sale or purchase of stocks, debentures, and other financial securities. In return, the stockbrokers charge a commission or fee for their services. Individuals or organizations providing such services are termed, stockbrokers.